Who we are!


Dent Logic specializes in the highest quality Paintless Dent Repair/Removal in the industry. We are a completely mobile company that covers L.A., Ventura and Santa Barbara Counties (with some exceptions).

We are preferred by dealers and repair a lot of things most other companies cannot. Estimates are free! Our workmanship is second to none and backed by a 100% customer satisfaction guarantee.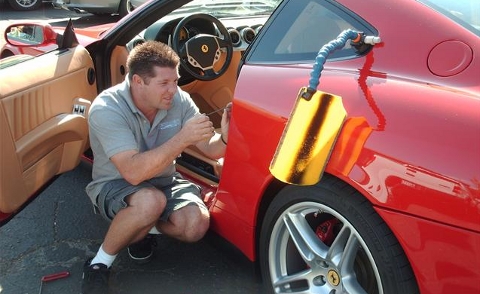 What is Paintless Dent Repair?


It is an automotive dent repair process which is a better alternative to time-consuming and costly body work. Dings and dents disappear without the use of sanding, body filler, or paint, at a fraction of the cost you would pay a body shop. You will never have to worry about door dings, hail damage, or minor dents ever again. Dent Logic removes dents paint-free, leaving the original finish intact, thus increasing your vehicle's value. Dent Logic has also redefined the PDR market by repairing damage sometimes larger than a basketball.

Our processes do not conceal body damage. The factory finish is not affected; damage is eliminated. Dents, dings, creases, and hail damage are painstakingly removed to restore the vehicle to its original value and appearance. Traditional body repair methods are no longer required for the removal of dings and/or dents. Dent Logic customers save time and money while receiving the maximum benefit from our fast service and experience in safe dent repair.



How is it done?


Using specially coated tools and extensive training, the dent is accessed and pressure is applied, removing the dent without harming the original finish. No dry ice, heat, glue, or suction is used. The dents will not reappear or "pop" back later, as it is a permanent repair.